The unnecessary complexity should be avoided because even Albert Einstein said "Make everything as simple as possible, but not simpler" or Leonardo Da Vinci's "Simplicity is the ultimate sophistication". The visual part of your online shop is the first impression your customers will have, so they will appreciate the structure of the website if the design is simple and easy to use, but we can't forget that the main reason for abandoning the purchase process is the browsing experience. The design and content must be optimised for all devices.
So here are our top features for the best e-store in 2022:
1. Category and filters
When we talk about the category of an online shop, we could refer to the branches of a tree. In other words, the content of the online shop classifies its products into different branches to make it easier for the customer to find their needs.
On the other hand, filters exclude those articles that are not interesting to us or that do not have the characteristics that the user needs. It is the possibility for the customer to find what he or she is looking for in the quickest and most comfortable way possible.
2. A direct way to buy from the home page
Nowadays, it's not only selling quality products that matters but also the functionality of the e-store and the ease for users to buy and be more interested in your product or service.
So, giving them the option to buy from the home page can be faster and more useful for customers and even for you.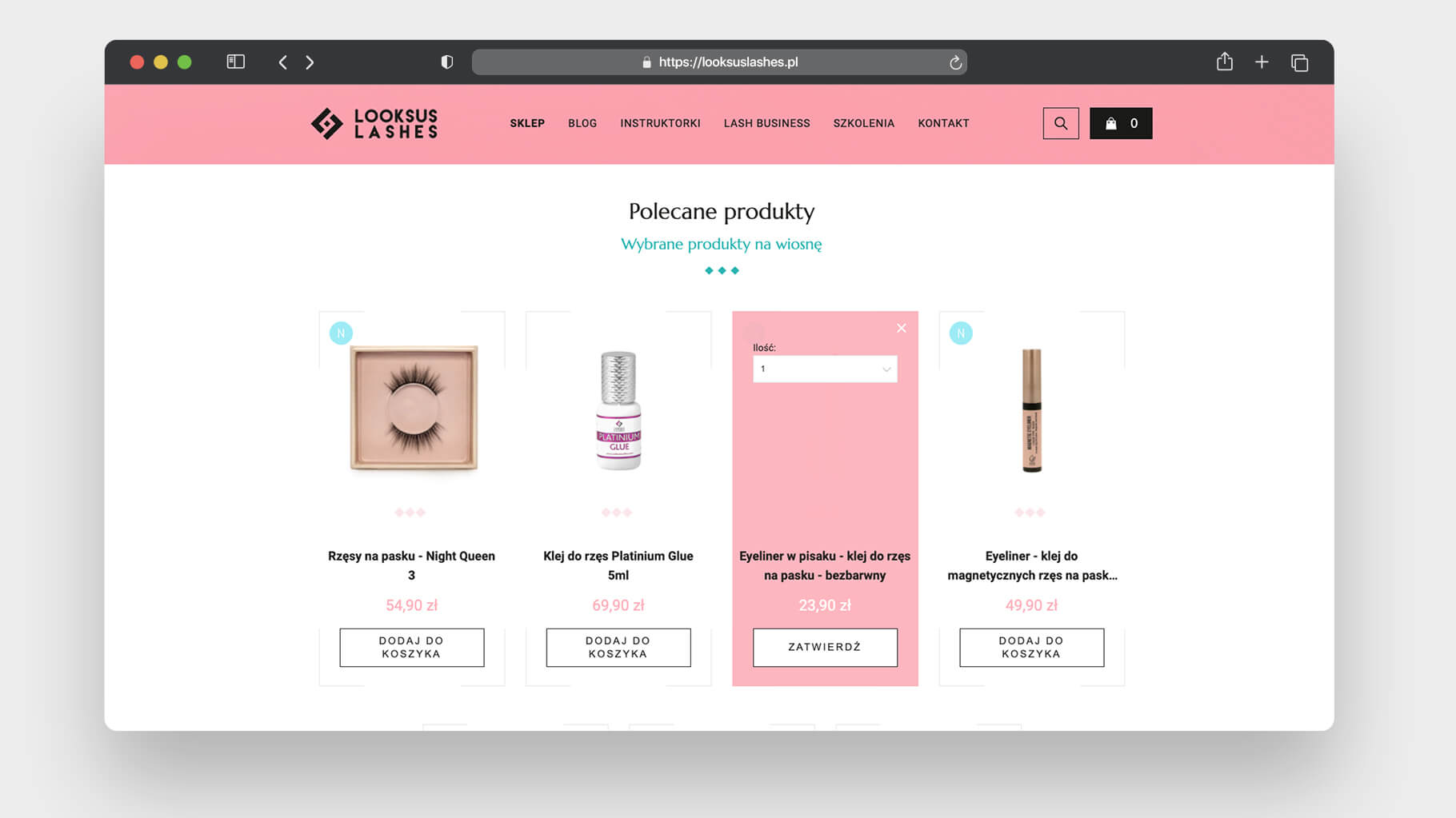 3. Promotions, discounts, code discounts
Are you trying to increase sales and at the same time make your customers feel valued?
These promotions and discounts can benefit your company:
Volume discount. A strategy that reduces the price when you buy more products.
Event/seasonal discounts. Season or annual celebrations are good opportunities to offer promos or offers, like Black Friday, Christmas or birthdays. Why? Because every year customers will be searching for the best products for these events.
Free shipping. In 2020, 53% of consumers said that a free delivery option would increase their likelihood of purchasing products online.
Buy one, get one free. Because who is going to say no to a gift?
First-time shopping offers. It's a good way to find new customers and to make them feel valued from the beginning.
Email marketing newsletters. Discounts by subscribing to a newsletter can be a great strategy to have more possible future sales.
4. Possibility to buy without an account
Sometimes customers don't want to create an account with X store because they are only going to buy there once or because they don't want to receive emails from the company. It is totally understandable as it is the buyer's decision. Therefore, having the option to buy without creating an account can be positive for certain customers.
5. Possibility to buy a pack of products.
A special offer that you can propose as a seller is to make a pack of products that are also sold separately. The customer can buy a few of them at the same time because by offering them in a pack we create added value. It is a smart strategy for the seller and a more profitable option for the buyer.
As you can see in Sklep Wynajmistrz, it gives you the option to buy a pack of them at once!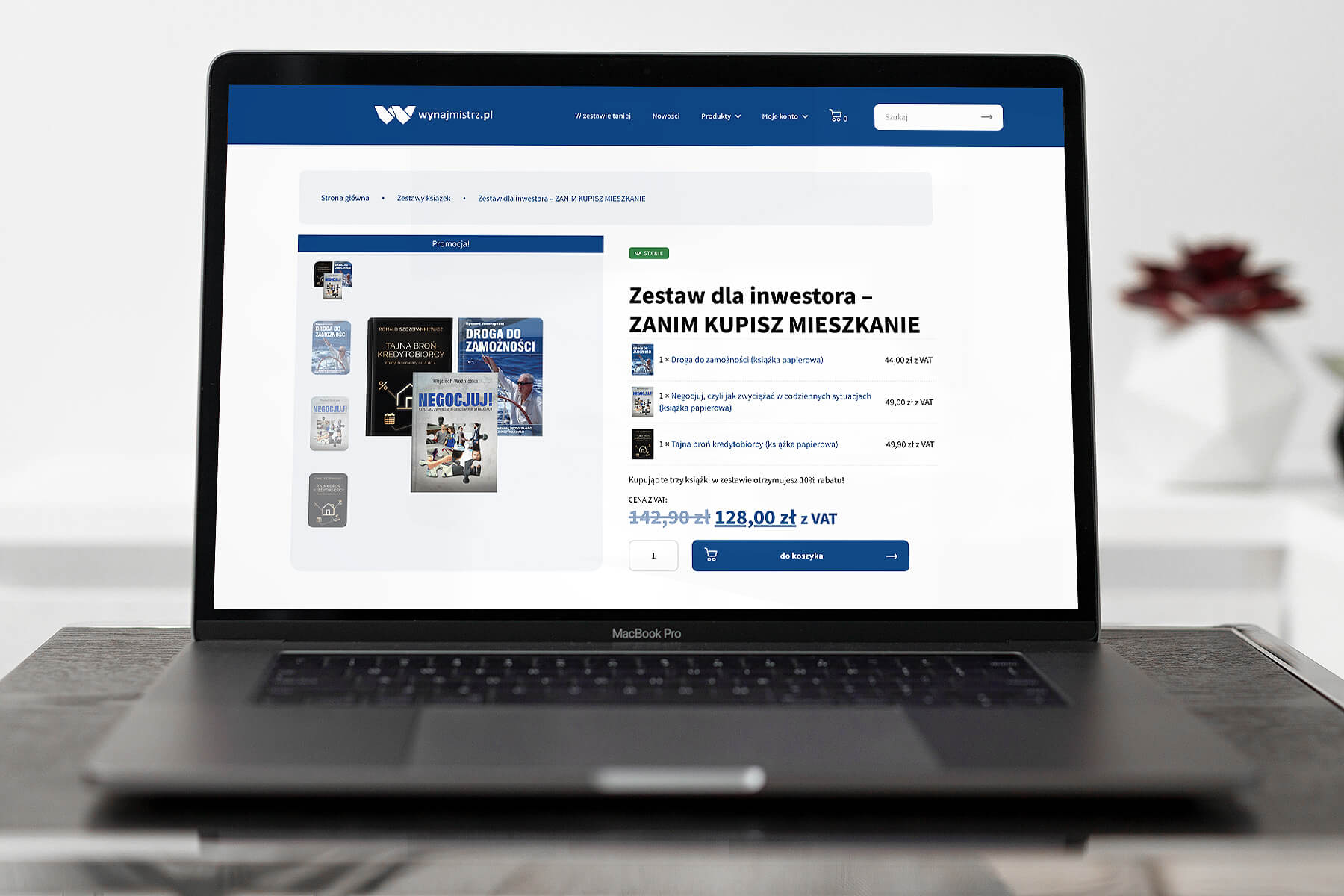 6. Possibility to show the product (e-book pages)
At times, some products need to be shown more than others. When you are buying a pair of shoes, you only need a few photos and a description of them just to see if you really like them. But when you want to buy a book online… How do you know if you are going to like it? That's why showing some pages can be great.
For example, while creating the website for Healthy Omnomnom, we added the e-store features. Customers are able to look through some of the pages in e-books to make sure it is a product for them.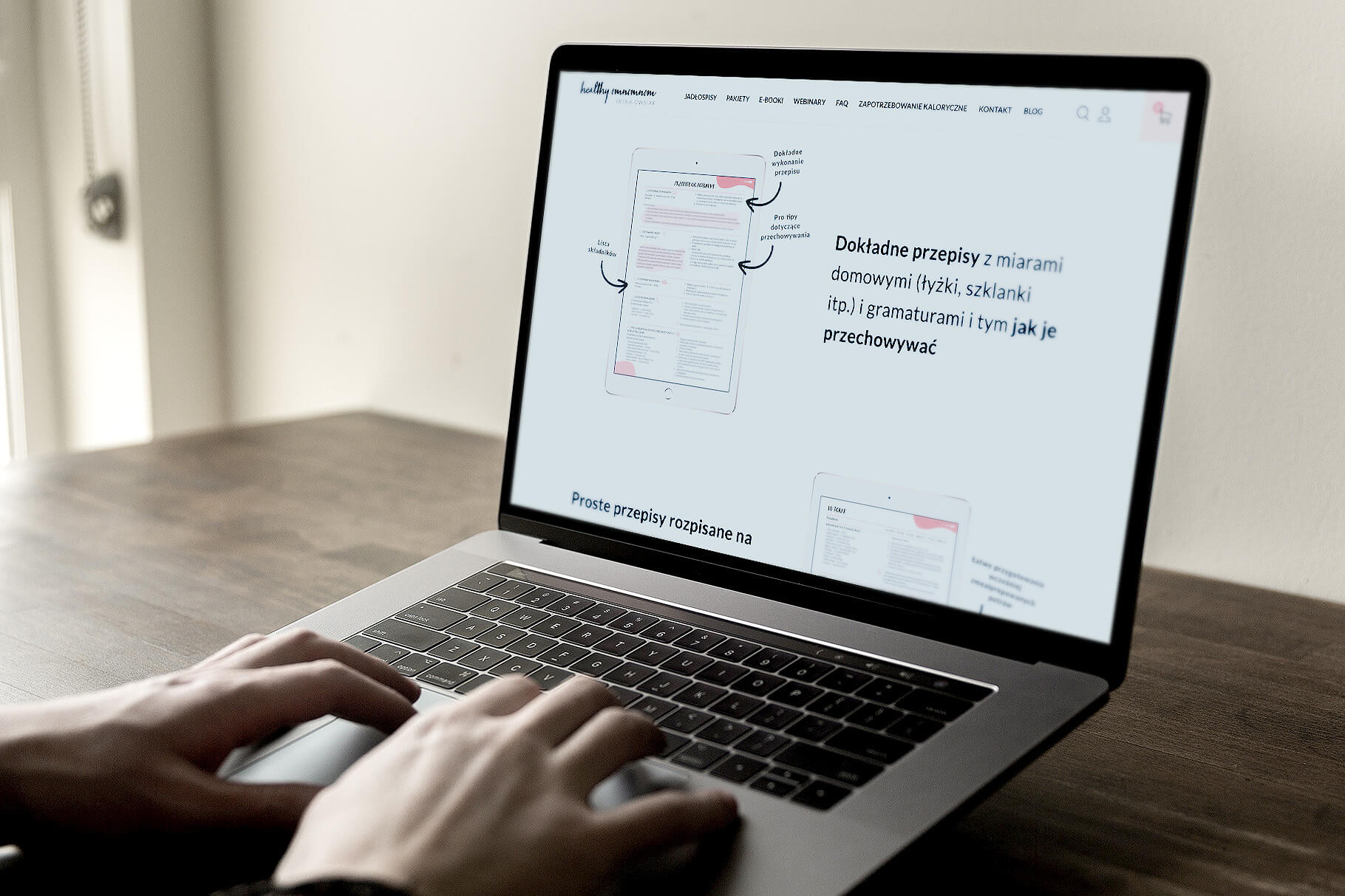 7. Good quality of photos/videos
If the first impression of your online shop the customers will see is poor quality photos, do you think they will stay for much longer? The answer is no. It is important to have up-to-date photos or videos that show your product as best as possible.
We have a great example of it. Last year, we helped our partner – MrShuttle to create a new e-store. It is a company that facilitates travel in several cities in Europe. Thanks to interesting trips and convenient transfers between cities, everyone can discover the world on their own.
In such a market – photos are one of the most important things, so we decided to show them at the top of the products page.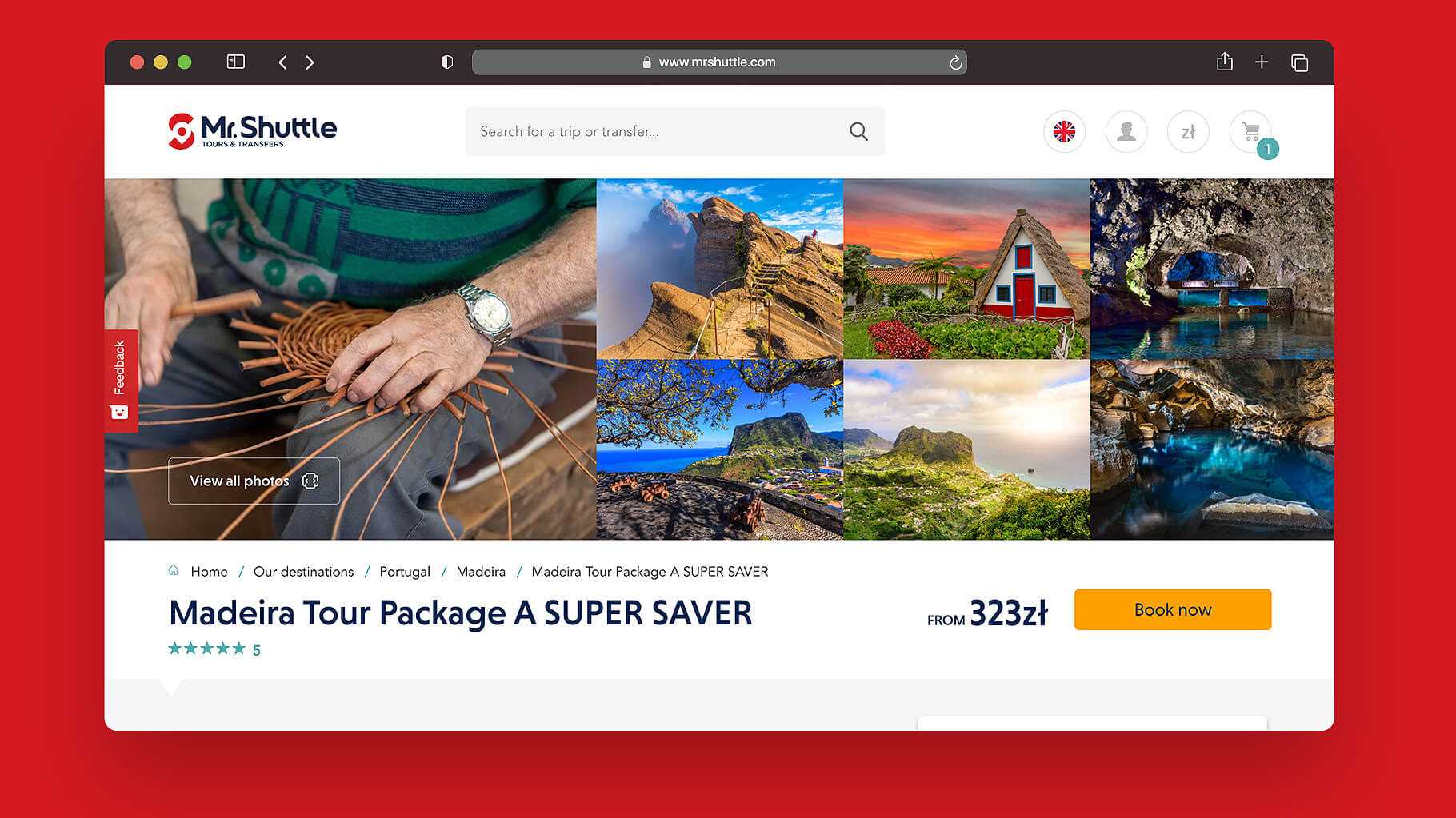 8. Customer and social media reviews
When we want to try out a product or a service that we have never used and we want to know if it is worth it or not, we will always check the reviews of other customers who have tried it. Considering that 91% of customers look at the reviews before buying and 84% trust online reviews as much as a personal recommendation, I'm sure it's a must in your online shop.
Customer review: you can find out what your weaknesses are in order to fix them and improve your business.
Social media reviews: Essential feature. Possible buyers will rely on reviews, and rating it with stars will make it easy and more visual (for customers and for you).
Don't forget to reply to the reviews, the customer will be grateful for being listened to. Even the bad ones can be an opportunity to solve a problem.
How reviews work, you can also check in one of the projects which we developed – Mr. Shuttle.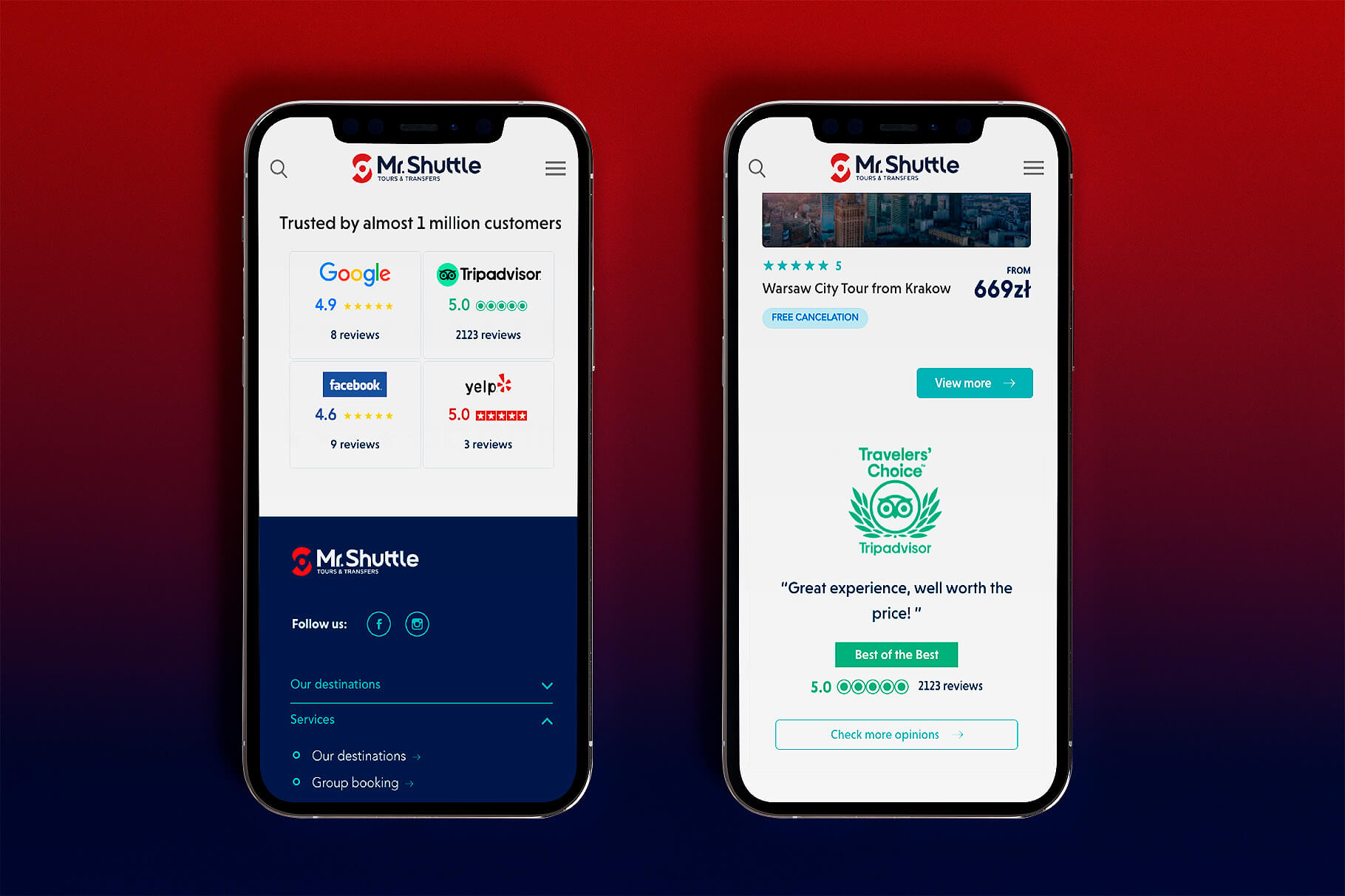 9. Suggestions
Recommendations like best sellers or suggestions like products and services that other clients usually search for and could be of their interests is a great idea to convince them, to anticipate people's needs, and make them feel that they want it before they even know they need it.
As we did for our customer from Australia – we developed such a solution on the Opal Minded website, where you can see products that you also may like.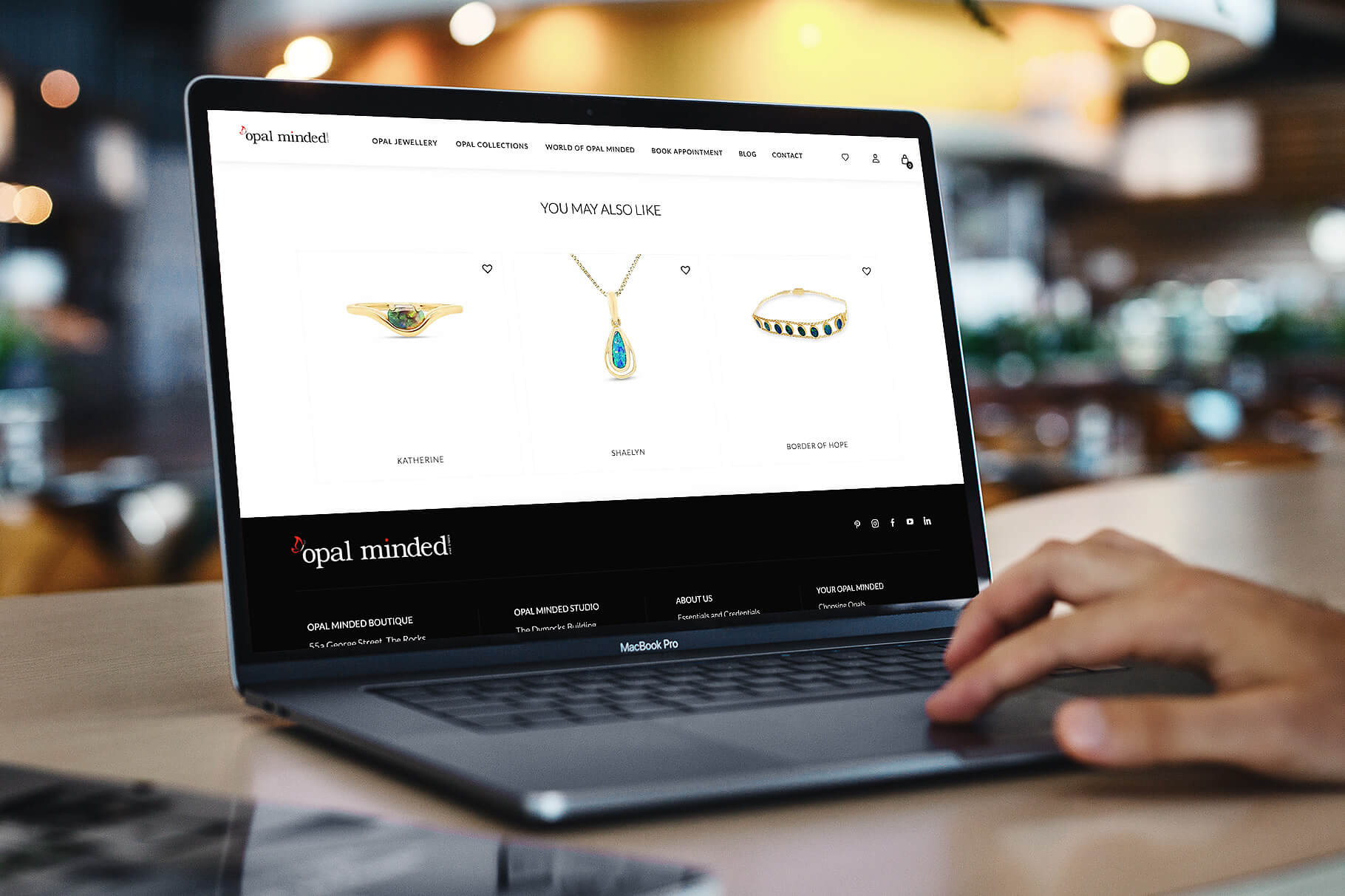 10. FAQ
One way to provide customer service without having a person do it directly is in the FAQ feature, which benefits both the seller and the buyer. When more than one person has the same doubts as the rest, having the option of frequently asked questions makes the potential purchase much easier and the worker doesn't need to spend time answering each question separately.
Brave New team believes that every problem has a solution. This is why we have a frequently asked questions section, which we are pleased to answer. Like 'What we can
do for you?' 'How do we deliver?' or 'How much does it cost?'…
You can check it on https://bravenew.agency/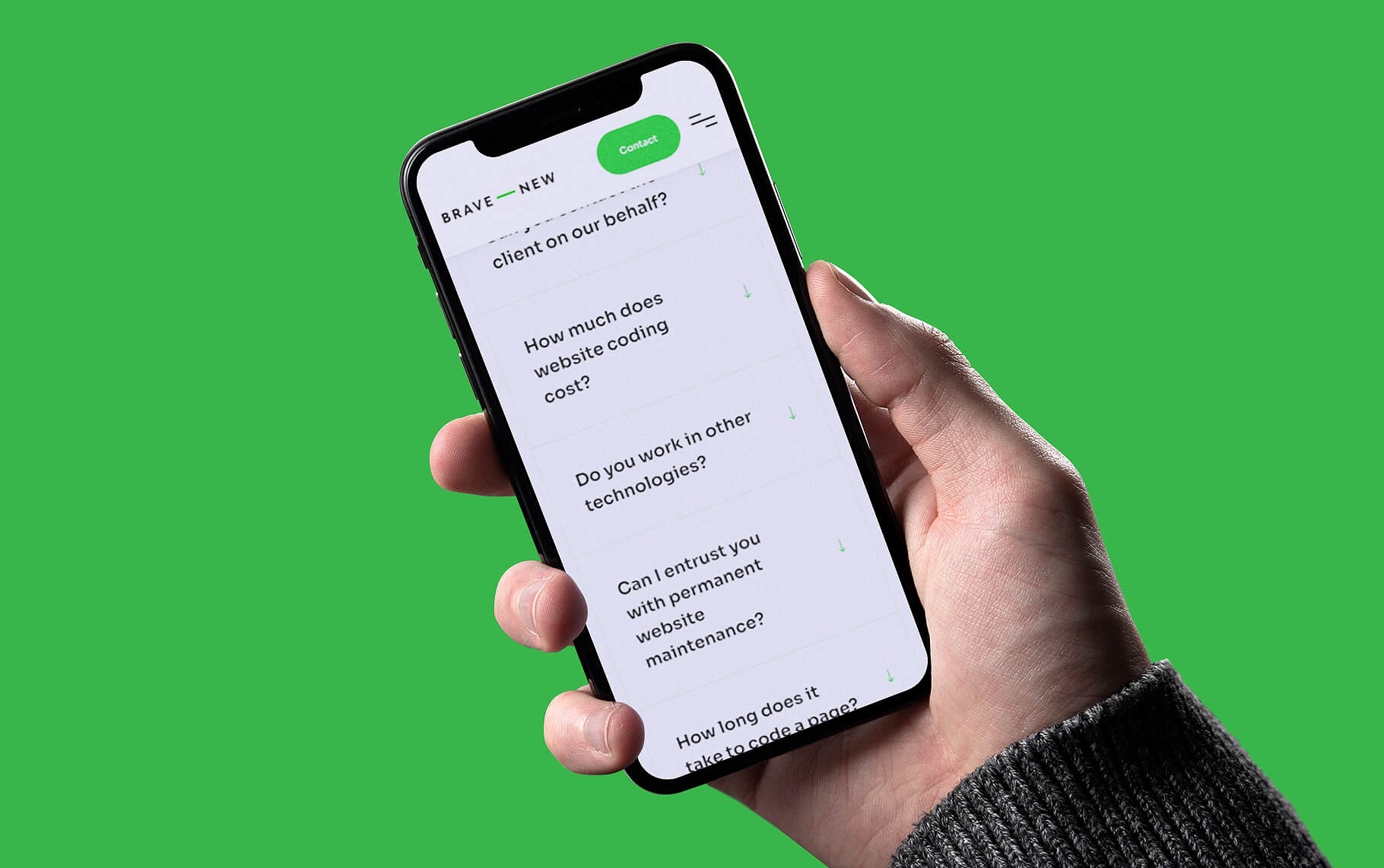 11. Icons presenting basic information
Every customer likes to browse a website and instantly understand what is being explained. Thanks to the information icons we can find out what they are talking about in a very simple way, even if we speak a different language. You can use icons to present the most important facts about free shipping or easy returns of products or guarantees.
12. Blog
What can I reach by writing a blog? Feedback. Thanks to articles we can resolve questions, create interaction, get new clients… Maybe it won't make you earn money, but you will earn communication and trust.
Besides that, it's a good opportunity to recommend your services and talk about why customers should buy them or why it is useful for them, without telling them how perfect and wonderful your company or products are, as this might make them lose trust.
13. Online chat
You have to be aware that an online chat is only useful if you are able to answer within 2 or 3 minutes after a question is asked. As it is an efficient and fast communication channel, the customer expects to be able to solve their question immediately and not the next day, because they will probably stop being interested in your company.
14. Upselling
When we talk about a strategy that encourages the customer to buy a premium or higher-end product or service than the one they were originally going to buy, we talk about Upselling. To identify these opportunities, study your customer data, collect customer feedback and identify unsatisfied needs.
For example, when you are buying a tour at Mr. Shuttle, in the cart, you can add an extra meal. Or when you are buying something in Healthy Omnomnom, in the final step of buying, you can also add an extra ebook for a special price.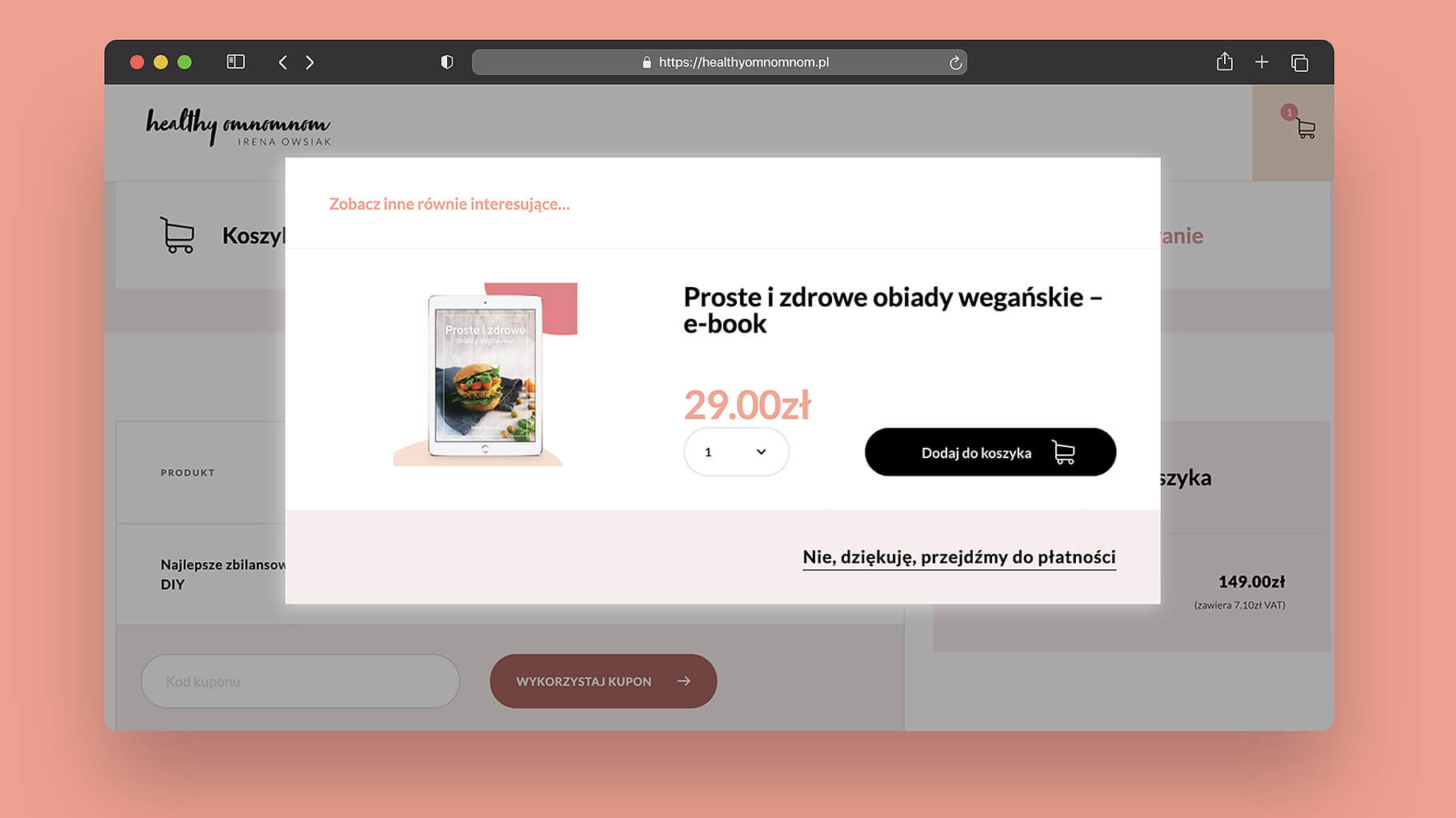 15. Escaping Cart
It's an email reminder when a customer added a few products in the cart but didn't buy anything, so they can remember the added products and maybe buy them after the email. It's a good strategy to make contact with clients and make them know that their products are still available for them.
16. Delivery Timer
If you don't want your business to receive too many emails asking when the product is going to arrive or why it is taking so long, a Delivery Timer can help you. Providing this information to your customer can create urgency to secure that order today. Furthermore, without this information, you could be losing sales to your competitors.
17. Max/min money searcher
Have you ever been looking for something new to buy in your favourite online shop, see something you love, but it's too expensive to afford? Well, another facility we give to customers is that they can specify the minimum and maximum amount they want to spend and we filter out the products that fit their budget. It is a way to discard those products that are unnecessary for the customer.
18. Secured payment system
Paying online is a serious matter, you have to be able to offer all the necessary information, so the customer feels safe. You don't give potential buyers the chance to think things like "Will I be ripped off?" or "What if my card is cloned and they charge me for something?".
19. Multi currencies if you are selling internationally
Are you planning to sell internationally? If you use a multi-currency strategy, make sure that your prices are as transparent and clear as possible, because otherwise, the customer will have to pay conversion fees, and they will probably not want to buy from you anymore.
This is what we did in Mr. Shuttle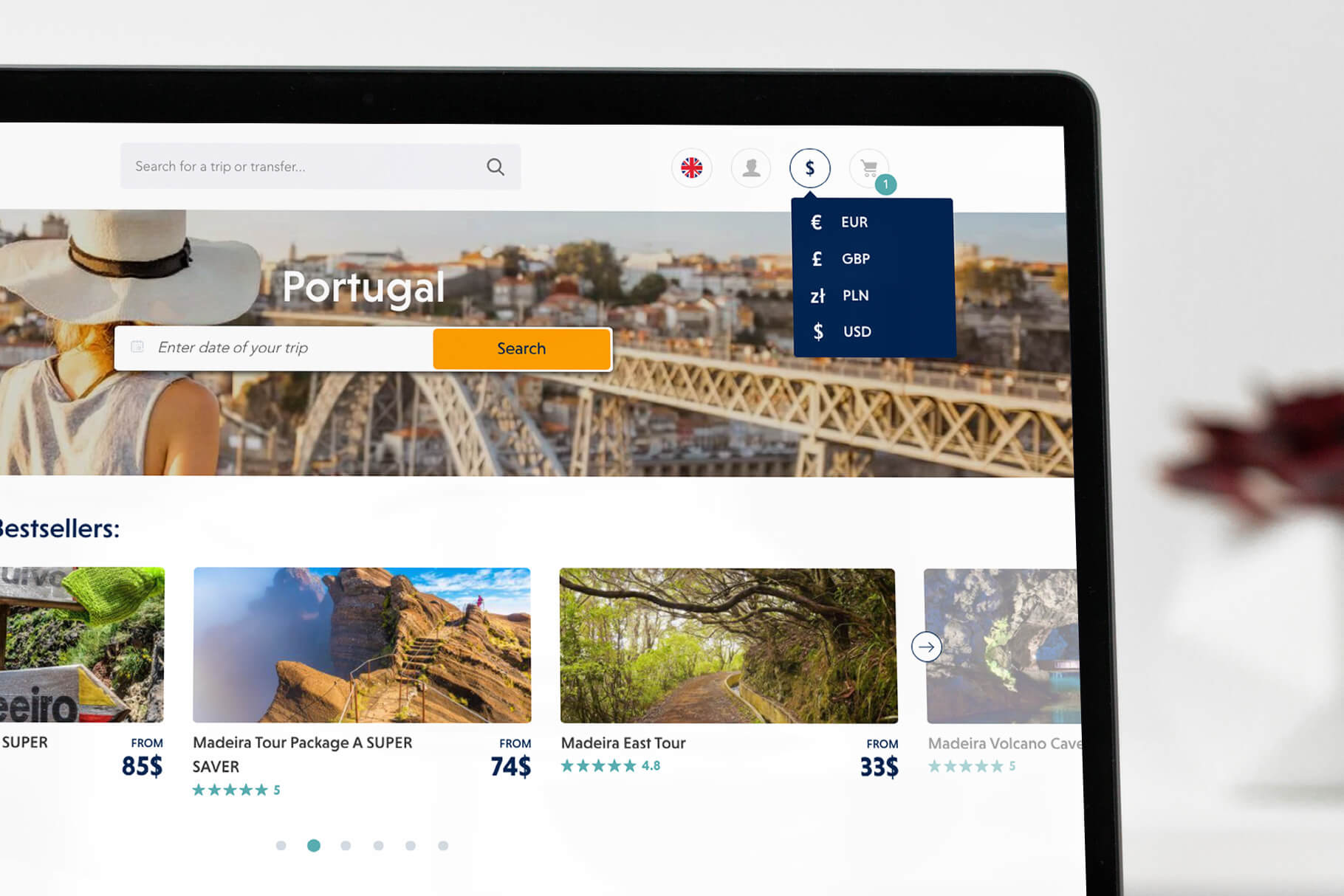 20. Policies, Terms and Conditions
It's important to set the terms and conditions of use. It is a set of rules and statements that users of the website, online shop or service must accept and follow in order to use the website, online shop or service.
Identification data of the website or online shop owner
Intellectual property rights
Steps to follow to contract or purchase services or products offered in the online shop
Clear specification of prices, duration and method of payment
Clear guarantees that a product or service has when contracted or purchased by the user: liability for loss of the product, money refunds and returns
Possible clauses on offers and promotions, customer service, after-sales services
The privacy policy followed by the company, where the user will be informed of how the information and personal data collected will be used, stored and transferred
And that's it, now you know what are the 20 effective features to use in your e-store, thanks for getting here. I hope this article helped you. Do not hesitate to contact us if you would like to implement one of these features in your e-store!